Planet Sphynx
---
Planet Sphynx is a small state registered cattery trying their best to do everything right. Planet Sphynx is a proud member of the TICA responsible breeder program & the cattery is registered with TICA. The beautiful Planet Sphynx cats in the breeding program have been board certified cardiologist tested normal for hcm & are disease/ parasite free. All kittens come to you vaccinated under TICA guidelines, free of parasites & disease, hcm warranty, spay/neutered after a complete veterinary exam, TICA registration, care package, health record , a sweater in cool weather, contract copy & lifetime breeder support.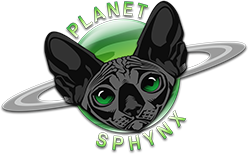 PLANT SPHYNX IS A SMALL TICA REGISTERED CATTERY OF EXTREME QUALITY SPHYNX
CATTERY LOCATION: THE CATTERY IS LOCATED IN DREXEL, MO. PICKUP IS AVAILABLE @ THE PLANET SPHYNX PLAYROOM @ 119 S BROADWAY, LOUISBURG, KS 66053. THE PLAYROOM IS WITHIN THE OWNERS PET GROOMING SALON EST 1992. THE COMMERCIAL BUILDING PLAYROOMS ARE WELL LITE, SUPER SAFE & EASY TO FIND IN BEAUTIFUL DOWNTOWN LOUISBURG KS, JUST OFF THE MAIN HIGHWAY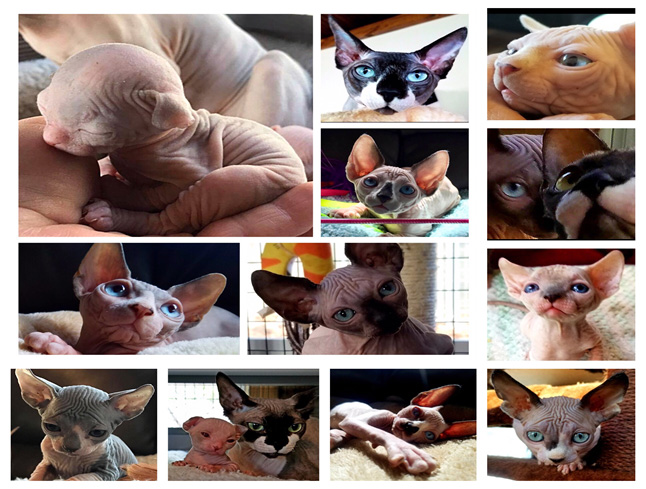 WAITING LIST/RESERVING A KITTEN/OTHER INFORMATION
Most kittens are NOT born looking like they will as adults (especially points & mink patterns). I do my best to determine a kittens color as early as possible. Most kitten color categories will be determined around 2-6 weeks of age. All kittens are born with blue eyes. Eye color does not begin noticeably changing until 4-6 weeks of age. At times it may take longer (up to 16 months) for the kitten to fully develop skin & eye color. Color will vary & change usually deepening tones & amplifying patterns.
Planet Sphynx kittens are of the highest quality & your experience will be unique & personal to ensure the perfect kitten match for you. There is only one paid reservation waiting list for all kittens born. First choice is always breeder's choice if it is desired to retain a kitten for the cattery. Some clients elect to make a deposit prior to kittens birth or prior to the next waiting list choice day to ensure their place on the paid reservation (waiting) list to guarantee their ability to make a selection of available kittens. Clients are placed on the paid reservation (waiting) list in the order their $500 nonrefundable deposit & signed acknowledgement of kitten reservation deposit/acknowledgment / waiting list form is received. The non-refundable deposit is deducted from the total kitten price only, no refund, exchanges, final sale without dispute. The deposit always counts toward the total purchase price of your kitten. Always ask what number you are on the list prior to submitting your deposit. Paid reservations are good for 2 years, guaranteeing pricing for one year from the date you are added to the list.
Once on the waiting list, you will be offered any available kitten from the next litters in the order you fall on the list & have the option to select any available kitten or pass to wait until the next litters. Planet Sphynx usually has litters every few months. Breeding announcements, births, dates of waiting list choose or pass for each litter (usually 6-8 weeks when most color & patterns can be determined), exam/spay/neuter dates, updates & weekly photos of each kitten will be posted on the Planet Sphynx Facebook Page. The Facebook Page is used like group communication & allows easy upload of photos.
Deposit payment process: PayPal is accepted for the $500 deposit. Payment may be sent AFTER contacting Planet Sphynx / Tabitha Ames confirming you would like to either be added to the waiting list or to reserve an available kitten. At the time of contact you will be given the current number of clients already on the list so you will know exactly what number you will be on the current list. Then please send the signed acknowledgement form of this info sheet BEFORE sending payment. Deposits & payments are noted directly on the acknowledgement to insure proper credit. Last step is to send payment. A Deposit Form tab located at the bottom of this page is the form you will need to submit. Any transaction charges from PayPal will be client's responsibility & added to your total at the time you pick up your kitten. Generally PayPal charges 4%. Upon PayPal receipt you will receive confirmation of receipt on our end. No other payment is due until you pick up your kitten. Many choose to make payments periodically however make certain to contact us prior to insure payment is received & credited properly. Do not send any deposits or payments for kittens thru the website.
Planet Sphynx offers many options for purchase, warranty & travel therefore you only pay for exactly what you want. You do not have to decide on any add-on options until around 8 weeks old when you receive your kitten sales agreement.. If you choose any add-on options simply mark in the space provided, update total & initial prior to returning your contract. At around 10-12 weeks of age/ approx 2 lbs all pet kittens will be spayed/neutered following a complete physical exam. I work with exceptional veterinarians experienced & skilled with Sphynx & require to take the responsibility & safety measures to safely alter your kitten & assist in speedy recovery. In the unlikely event your kitten dies for any reason at any time prior to receipt you will immediately be notified & placed back at the top of the waiting list (if anyone on the waiting list passed so you could choose your kitten you will be placed at the top of the list under anyone who passed but before anyone added after). Each kitten is unique & depending on factors like anticipated travel methods the release date will vary from 12-16 weeks. Most are released around 12 weeks however any kitten going in cabin on flight will not be released until 16 weeks old. Any kitten transporting in flight will be required to have early rabies & USDA papers at buyer's expense. You will be kept informed of progress. Your kitten thriving is the most important vs anticipation of taking a kitten too early. You may schedule pickup anytime between release & 16 weeks old.
All Planet Sphynx kittens have a required sales agreement. The sales agreement identifies the kitten, buyer, choices of add-on warranty & testing, what is included, Buyer & cattery terms of agreement. The signed sales agreement must be complete & on-file by 8 weeks of age & balance due must be paid by 12 weeks/release week (unless prior arrangements have been made). Final payment may be made at pickup in cash or you may choose to pay in advance. It is preferred & much safer travel by car, for long distance travel many choose to fly into MCI Kansas City, rent a car & drive back. We can also quote partial drive meeting. You may also fly into MCI & fly back with your kitten in-cabin at 16 wks old. Planet Sphynx never ship's cargo.
Price of kittens: Kittens with pet package are $3000 regardless of rarity of color or eye color unless specifically noted in advance. ALL kittens are altered. No kittens are sold with breeding rights.
Everyone picks up at the commercial building located at 119 S Broadway, Louisburg, KS 66053 where the Planet Sphynx playrooms & the owner's pet grooming salon are located. This safe location is just blocks off the main highway in a crime-free really cute small town. The building is well lite, super easy to find, aprox 40 minutes South of MCI airport & contains a supply corner filled with supplies in case you forget anything. Acknowledging the sometimes very long distances of travel I am very flexible on pickup days & times. If you need anything always just ask
Meet & greet? Planet Sphynx does not do individual meetings, there simply isn't enough time in the day. The owner does however usually have 2-3 Sphynx in the Louisburg playroom M-Th just off the lobby of the pet grooming salon for everyone to enjoy. Weather & breeding can vary the kitty attendance in the playroom so if you are interested in meeting a few just let us know & we can make sure a few are present.
Allergic to cats? The owner of Planet Sphynx is highly allergic to cats but blessed with no severe reaction to Sphynx. If you are allergic you may also be allergic to Sphynx to some degree. The saliva is what most are allergic to so without fur floating around in general the reaction is always less and frequent baths also help. If you are nearby the playrooms please contact the owner to hold a few cats and real life test prior to commitment.
Don't be a scam or fraud victim! If you have requested this info you are obviously searching for a kitten. The following is an acknowledgement of important facts for your consideration: Planet Sphynx is a registered TICA cattery & can be found listed on the TICA site as a registered breeder. The Louisburg KS location has been owned since 1992 as well as the owners pet grooming salon. The contact number 913-980-8700 has been active since 1991. Anyone can steal photos and promote a kitten for sale, or set up a web site, even duplicate and use breeder names illegally. Planet Sphynx uses the Facebook Page for at least weekly photos and videos insuring you the kittens are very much present & doing well. Frauds & scams are in every form. In 2020 Planet Sphynx's name was stollen & being used on websites and some social media's. Always look for the Planet Sphynx logo. Planet Sphynx has filed for Federal trademark protection which is expected to be issued in 2021 but it is a long process.. . The cattery is a home location in Drexel MO just 15 miles across the KS state line from the playroom. You will not be knocking on some stranger's door in an unknown neighborhood, your meeting is in a safe commercial location where everyone has phone signal regardless of carrier. PayPal is allowed & balance is not due until you pick up your kitten. Planet Sphynx is small enough for individual attention to both our kittens as well as the families who receive a kitten.